L.C. Armstrong is an American painter and sculptor who was born in 1954 in Humboldt, Tennessee, and grew up in the American South. In 1963 her family moved to Venice, California, where she trained in her father's neon sign business. In Southern California, Armstrong painted signs, airbrushed vans and customized cars and airplanes to pay tuition to Art Center College of Design, Pasadena, California, where she received her B.F.A. in Illustration in 1981.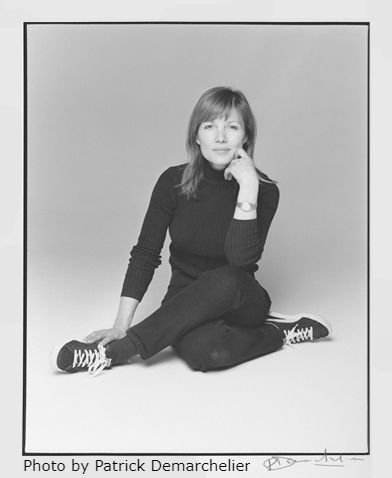 Armstrong moved to New York City after graduation and worked in the early 1980s as an illustrator for New York Magazine, Money Magazine, Coca Cola, Budweiser, Sony, and Macy's among others. But the desire to be a fine artist drew her back to San Francisco Art Institute where she graduated with a B.F.A. in 1987.
She returned to New York in 1987, and worked as an artist's assistant. Armstrong moved her studio to Williamsburg, Brooklyn. In 1989 she began experimenting with conceptual painting and sculpture. Autumn in New York, 1993, freezes a blast of bullets striking aluminum, in resin. Her sculpture, Dream Machine, 1992, consists of an adjustable bed, with an aerated foam mattress, punctured by 4,000 sharpened silver pencils.
In 1995 Armstrong started painting the imaginary landscapes for which she is best known. They are brilliantly colored, highly detailed dreamscapes. Gigantic flowers in the foreground loom over tiny people and animals, accentuating the Alice in Wonderland shifts in scale. Influences include: 17th C. Dutch Vanitas paintings, German Romantic landscapes, 19th c. Hudson River School paintings, American Pop Art and Southern Californian "Fetish Finish" Art.
Armstrong's first solo exhibition was in 1990 at Galerie Sophia Ungers, Cologne, Germany. In 1991, she was invited to be in the 42nd Corcoran Biennial Exhibition of Contemporary American Painting. 1993 Armstrong's work was included the 9th Biennale of Sydney, Australia. Armstrong was the recipient of a Pollack Krasner Grant in 1991.
Armstrong's work has been included in significant thematic exhibitions, including:
2000 Twisted: Urban and Visionary Landscapes in Contemporary Painting, Van Abbe Museum, Eindhoven, the Netherlands
2004 Open House, Brooklyn Museum, Brooklyn, New York
2004 Flower Power, Musée des Beaux Arts, Lille, France
Armstrong's work can be found in many important permanent collections such as:
The Corcoran Gallery of Art, Washington, DC
Harvard University, Cambridge;
The Kemper Museum of Contemporary Art, Kansas City
The National Museum of Women in the Arts, Washington, DC
---